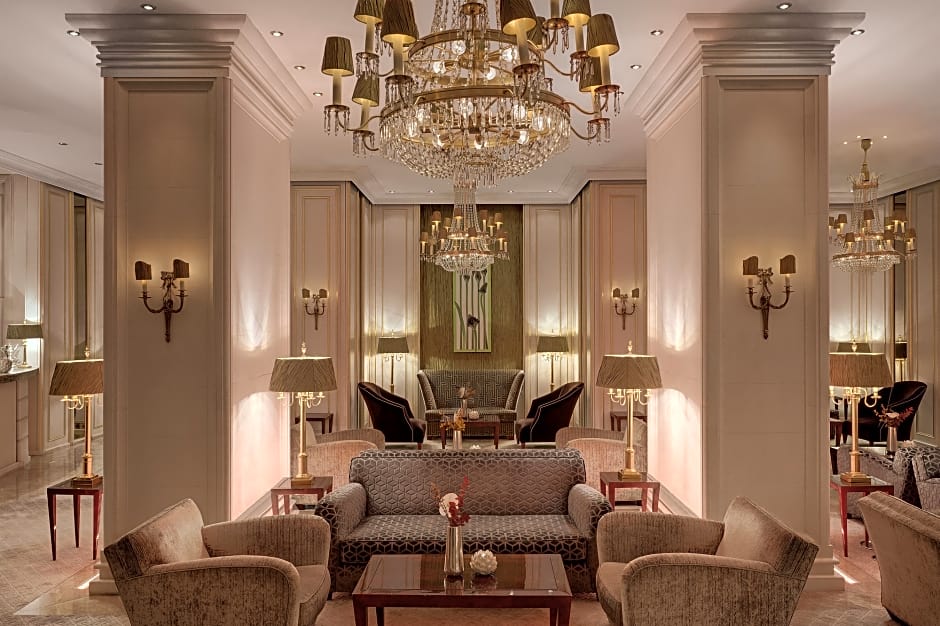 Hotel Königshof is a 5-star deluxe hotel, located in the heart of Munich on the Stachus square. Staying in Hotel Königshof you can discover our beautiful city by foot or by tram. The hotel provides superior facilities and quality cuisine.

Our friendly staff will do their best to cater to your needs. Our five-star service and facilities combine to provide the ideal location for your event or a wedding.

Our restaurant offers you an opportunity to experience unforgettable dining within the comfort of your hotel. With its breathtaking views of Munich, our restaurant welcomes you for a breakfast then continues its excellent service into lunch and dinner. Our bar is open all throughout the day and in some evenings piano music will accompany your dinner.


予約する方法
Hotel Koenigshofで予約するのが簡単で安全でございます。ご希望の日付を選択します。そして、フォームを送信するために「料金を確認し」というボタンをクリックします。 客室タイプと料金はお宅の画面に戻った後で、画面の中央にある部屋の情報を読むと画面の右側にある「予約する」というボタンをクリックすることによって希望の料金を選択することができます。希望の客室タイプを選択した後で、「ご予約を完了」というフォームに転送されます。その時に「滞在の詳細」を確認して、「ゲストの詳細」という部分の空欄でご自分の詳細のことを書きます。ご自分の名前とメールアドレスが正しく入力されていることを確認してください。 すべての重要な情報を記入した後で、「ご予約を完了」というボタンをクリックしてください。ご自分のセキュリティを確保するために、私たちがクレジットカード番号を暗号化し、非使用可能な形式にエンコードする安全なコマースサーバーを使います。
地域情報
空港

Oberpfaffenhofen, Germany (OBF)

- 12.36 mi

Munich, Germany (MUC-Franz Josef Strauss Intl.)

- 18.17 mi

Augsburg, Germany (AGB)

- 35.11 mi

Innsbruck, Austria (INN-Kranebitten)

- 61.73 mi

Memmingen, Germany (FMM-Allgäu)

- 62.12 mi

ミュージアム

Museum of Hunting and Fishing Deutsches Jagd und Fischereimuseum

- 0.28 mi

Museum of Antiquities Antikensammlungen

- 0.43 mi

Munich Municipal Museum Munchener Stadtmuseum

- 0.44 mi

Municipal Gallery in Lenbach House Stadtische Galerie im Lenbachhaus

- 0.51 mi

Toy Museum Spielzeugmuseum

- 0.57 mi